Monthly Archives: January 2015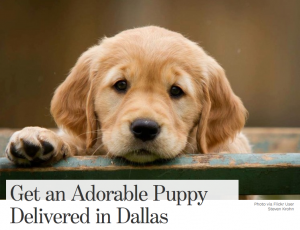 Three things you should know about the ACPEN team.
1. We make the best accounting CPE in the business.
2. We're based out of Dallas.
3. We love puppies.
Thus we're very excited about this.
Today only! Via D Magazine:
Animal Planet + Uber + Dallas Animal Service have teamed up to bring adorable, adoptable dogs right to your door. Here's how it works: Open up the Uber App between 11 am and 3 pm, today Wednesday, January 28, request the "puppies" option and for only $30 you get 15 minutes of cuddle time with an extra-cute pup.
If you're in Dallas, the clock is ticking! Quick get a puppy!
Ps. Tip of the hat to one of our directors, Charlie, for bringing this to our attention.
Update 3:10 PM CST: Tragically, the deadline for renting Uber Puppies has passed, and all of our attempts to rent a puppy were in vain.