Monthly Archives: December 2017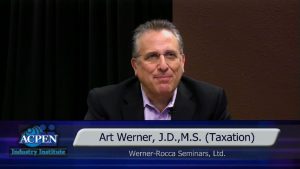 ACPEN will be offering a new course, presented by our buddies at Werner-Rocca Seminars, Ltd! Congress just passed a major piece of tax legislation, which is expected to to have massive consequences for CPAs and their clients.
Fortunately, we have at ACPEN have you covered with a new course, Understanding the Tax Cuts and Jobs Act of 2017.
From the press release:
This webcast will outline all of the significant changes in the 1,100-page Act. In this course, the participants will learn the legislative changes and how these changes will affect the compliance and planning needs of their clients. The course will also be replayed on multiple dates throughout the rest of December and into 2018. ACPEN and Werner-Rocca Seminars are trusted sources of quality accounting continuing education, and we are ready to get practitioners the information they need on this monumental legislation right away!
The course presenter, Art Werner, is a recognized expert on taxation, and an experienced presenter, who has created many CPE courses with ACPEN.
We hope you can join us for this important course on the new tax reform! We'll help you stay up to date on these latest developments for you and your clients!