Monthly Archives: March 2018
Every once in a while, we pack up and hit the road. Just a couple of weeks ago, ACPEN headed to the "Big Easy" to attend the 2018 CPA Educators Conference. We attend this conference annually, as it provides a unique opportunity to meet with state CPA societies and our content partners to hear what's new and exciting in the world of CPE!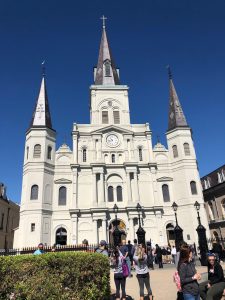 Obviously, this year, the big news relates to the new Tax Cuts & Jobs Act of 2017. With this new legislation comes some pretty big changes for tax practitioners and their clients. Good news-ACPEN's already on it. We currently have an overview of this new plan available from our partner, Art Werner, called: Understanding the Tax Cuts & Jobs Act of 2017.
And for those of you who need a more in-depth look at this legislation, check out our ACPEN Signature Course on May 16th—Tax Planning After the Tax Reform Act.
The other topics discussed at the conference were Artificial Intelligence (AI) and Succession Planning. We'll be working on some new content to address these areas, but we'd also love to hear from all of you. Let us know what topics you'd like to see added to the ACPEN catalog. —please leave us a comment with your suggestions!
You'll be glad to know that it wasn't all work. At ACPEN, we always make time for a little bit of fun! We ate some great food, saw some beautiful sites, and even hosted a Happy Hour from our Bourbon Street Balcony. A lot of work, and a lot of fun—Laissez Les Bon Temps Rouler!