Goodbye Tax Season, Hello CPE Season!
April 18, 2018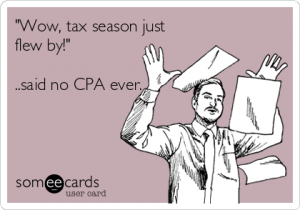 Today is the day, friends. Breathe easy. It is April 18th. Congratulations to all of you! You've made it through another tax season! It may not be a nationally recognized holiday, but we know that it is certainly a day to celebrate. We hope you spend at least a few days doing something fun (We'd suggest sunny beaches and drinks with tiny umbrellas, binge watching Netflix, sleeping, to name a few)—you've earned it!
And to help you celebrate the end of tax season and ring in "CPE season," we invite you to use code: ByeByeTax18 at check out to receive 30% off of your entire purchase! Offer good through 4/20. Feel free to share with your colleagues and friends!
Enjoy the day! Enjoy the discounted CPE! Happy "Day After Tax Season" to all!