Monthly Archives: September 2018
Submitted by ACPEN presenter Dr. Bruce Weinstein, The Ethics Guy.
You don't have to be lucky enough to have a ticket to see the sold-out show, "Springsteen on Broadway," to be the kind of leader Bruce is. But I was there last night, and I saw him do five things consistently that have a lot to do with the show's, and Bruce's, unmatched success.
If you follow Bruce's lead, you will be a rock star in your own right.
Look At People When You Talk With Them
One of the most common observations about a Springsteen concert is: "I felt like he was talking right to me." How can someone playing to thousands of people make each person feel so special?
It starts with how Bruce treats the audience: he looks directly at people. Unless you're in the bleachers at Dodger Stadium, if you're anywhere within Bruce's eyesight, you feel he's looking right at you, because he probably is, at least some of the time.
Looking directly into someone's eyes the entire time you're speaking with them is creepy. But if you're constantly looking at everything but the person in front of you, you come across as distant, aloof and not interested in your interlocutor.
Be like Bruce. Connect with each person you speak with.
Speak, Then Listen
How many times have you felt as though you were on the receiving end of someone's monologue during a conversation on the phone or in person? If only that person was as impressed with you as they are with themselves.
In Springsteen on Broadway, Bruce stops from time to time to gauge his effect on the audience. He speaks, stops, gets a sense of how what he just said has landed and then continues based on the cues he's gotten from the audience.
There's a constant feedback loop during the show, and that's how every good conversation proceeds: back and forth, ebb and flow, speaking and listening. How long do you think Monologue Marlon or Self-Absorbed Sally would have lasted fronting a rock band? Not as long as Bruce has.
Be like Bruce. Shut yer yap once in a while.
Acknowledge Who Helped You Get There
About three-quarters of the way into the solo show, Bruce singles out everyone in the E Street Band and gives special attention to Patti Scialfa, who is both a member of the band and Bruce's wife.
This is humility in action. Bruce may write the music and lyrics to his songs and command the stage from beginning to end, but without the contributions of Steve Van Zandt, Garry Tallent, Roy Bittan, Max Weinberg, Scialfa, Nils Lofgren, and the late Danny Federici and Clarence Clemons, as well as the distinguished musicians who preceded them, Bruce admits that he wouldn't have gotten to where he is today.
Which are your team members more likely to think to themselves or say to you: "Stop thanking me so much" or "I really appreciate how grateful you always are about what I do"?
Be like Bruce. Give credit where credit is due.
Do What You Do Best
Could there be any expression more trite than this? No. Could there be any expression that is more likely to be the basis of your success than this? Absolutely not.
Imagine Bruce as an opera singer, ballet dancer, hockey player or financial analyst. It's impossible to envision him in any of these roles without laughing out loud. But no one laughed last night when he sauntered onto the stage of the Walter Kerr theater to play "Growing Up" on an acoustic guitar and tell stories about his family.
Bruce Springsteen wasn't born to run. He was born to touch the hearts and souls of people through the gifts of songwriting and performing that he was given and then developed.
Be like Bruce. Find out what you were put on earth to do, and if it's not what you're doing now, figure out how to get to the promised land. I know this is easier said than done, but just think of what the world would have missed if Bruce had spent his whole life as a third-tier dancer in a ballet company near Freehold, New Jersey.
Know When To Exit
Springsteen on Broadway is a two-hour show without an intermission. Although Bruce's rock concerts have stretched beyond four hours, which is great for a stadium event, his New York show is just the right length. It's long enough to be a deep dive into his life, but you don't find yourself saying, "When the heck is this dadgummed thing going to end?" You leave wanting more.
Isn't that how you'd like others to regard their time with you?
Whether you're giving a talk, having an in-person/phone/Skype conversation or attending a social gathering, you should stick around just long enough to be a welcome presence.
We all know people who don't know when to end a phone call. "Oh, and one more thing," they add, while you catch up on your online Scrabble game and pretend to listen to their logorrhea.
Be like Bruce. Know when it's time to go.
There. I said all I needed to say, so it's time for me to go, too. Thank you for reading this.
Check Bruce's availability to speak to your group on high-character leadership 
here
.
And check out some of Bruce's ACPEN courses here.
One of our favorite presenters was in studio recently to record some interesting and relevant new content for ACPEN viewers. Jill Schiefelbein is always great to work with and brings a fun and carefree attitude to creating courses.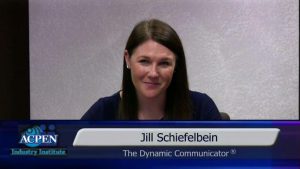 But, Jill is also a social media ninja! Check out some of her fun posts on her Instagram @dynamicjill.
Be sure to check out Jill's social media courses, Social Media and Your Business and Social Media 101: Know the Essentials for Your Business, to learn to master social media like she does.
Also check out all of her new courses.
Effective Virtual Teams and Virtual Meetings
Self-Promotion for Career Advancement: Communicating Your Strengths
Dynamic Communication: Strategies for Achieving Buy-In
Setting up Programs for Innovation: A Six Step Process
Navigating Difficult Conversations
A little bit more about Jill:
Jill Schiefelbein, The Dynamic Communicator(R), thrives at the intersection of communication, education, and technology. From analyzing classified documents obtained from military raids of terrorist camps to assess jihad messaging strategies, to teaching business communication for 11 years at the largest university in the country, to starting and managing an online education office serving 60,000+ students, to her own award-winning entrepreneurial ventures, Jill successfully creates and executes communication strategies help people and companies solve problems, retain and develop consumers, and enhance the bottom line.
Jill is co-author of the textbook Business and Professional Communication in the Global Workplace, has a widely viewed presence on YouTube, and is an official video partner and contributing writer for Entrepreneur(R). Her next book, Dynamic Communication: Strategies to Grow, Manage, and Lead Your Business, will hit bookstores in May 2017. Learn more at http://thedynamiccommunicator.com and follow Jill on Twitter @dyanmicjill.
Our September Signature Course, Business Fraud Update: Use of Technology in Fraud Investigations, was an action-packed webcast filled with stories of lies, deceptions, and FRAUD! It also featured our largest panel for a Signature Course this year, with NINE accounting and technology experts. This gives you, the viewer, many different perspectives on a fraud investigation, but it also presented many production challenges for our production crew. So, we invite you to take a look at the "Behind The Scenes" fun. And–if you missed it, be sure to check out the on-screen action at the next live webcast replay.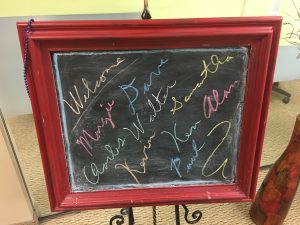 Our welcome sign, jammed full of our presenters names. (We're gonna need a bigger boat. Or board.)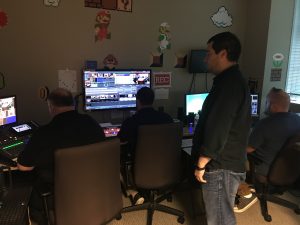 The control room, where the magic happens.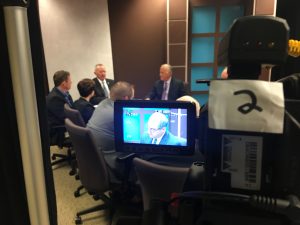 Shooting over panelist shoulders gives you a nice view of the back of panelists heads.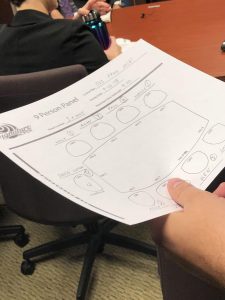 Seating and mic chart keeps everyone straight on who goes where.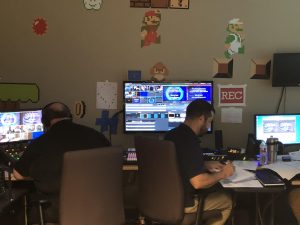 Our director, Larry, taking notes to keep things organized.
It was a hectic day for sure, but it was totally worth it! This is one of the most dynamic and engaging CPE opportunities out there. You won't be disappointed!
Be sure to check out this course and other upcoming courses at the ACPEN Catalog