Monthly Archives: August 2019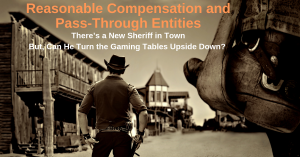 For the longest time, saving employment taxes by means of skimming cash from either a partnership or an S Corp seemed a bit like the lawless Wild West with no sheriff, no posse and no hanging tree. Oh, don't get me wrong. There were laws on the books. It's just that the odds of getting caught were slim to none, save for the stray example IRS or an occasional court made of some renegade that got caught.
But, there's a new sheriff in town. A newly minted IRS Commissioner is at the helm. Under his watch, IRS this spring launched a new partnership and self-employment tax Concept Unit. IRS also recently convinced the Tax Court it does not any longer have jurisdiction to hear S Corp reasonable comp employment tax cases (8th Circuit agrees). IRS plans to exact a mighty pound of flesh in response.
Wait a minute. Have things really changed? IRS's hot-off-the-press 2018 Data Book reveals the IRS exam rate for partnerships has dropped (from 4% in 2017) to 2% in 2018. Similarly, IRS's exam rate for S Corps has dropped (from 3% in 2017) to 2% in 2018. Has IRS become a ghost town in a Clint Eastwood western? Though the ranks of the IRS posse be few, are they nonetheless mighty?
Unlike the old west, IRS's modern day posse is not necessarily made up of a body of local men, typically armed, summoned by a sheriff to enforce the law. Clint Eastwood's boys in "Hang 'Em High" did not pack in their saddlebags computers, artificial intelligence, accuracy penalties, preparer penalties and Circular 230. Nor did exist §199A, which directly slates income tax savings and employment tax savings against one another in a gun battle at high noon. The plot has thickened, to be sure.
How to fight the gun battle in the modern day? First by getting a handle on what the sheriff's boys have wrestled down lately and, perhaps more importantly, what they can do.
Want to sharpen your own skills? Check out Brad's online course with ACPEN, "Reasonable Compensation for S Corps and Partnerships – Shifting Undercurrents and Brand New Consequences."
And, we invite you to apply discount code: NEWbrad2019 to save 25% off of any of these great new CPE courses!
                                        This blog was guest written by Bradley Burnett, J.D., LL.M. Bradley is a practicing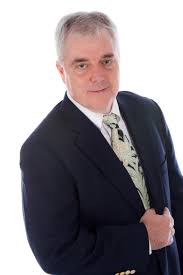 Colorado tax attorney with 35 years of tax practice experience. His practice emphasis is on tax planning and tax controversy resolution. He also prepares a handful of tax returns.
To view Brad's list of course offerings, browse our course catalog.
Visit his website for additional information.