Category Archive: Partner Produced Courses
In addition to producing our own CPE content in our Plano studio, we send teams around the country to live webcast conferences and events for our state society partners. June is one of the busiest months for our remote teams. In the past 3 weeks, we've had teams in several different Texas cities, Massachusetts, Florida, and Michigan. Here's an inside look at the FICPA Mega CPE Conference Webcast. It's not as easy as it looks…
Travel buddy, second tech, camera op, Bill does it all.
 
Arrive at our destination Orlando!

The Happiest Place on Earth!

Not a bad view
 
Our room for the next three days time to get to work!
Fastest set up possible!

Lets Do This!

Shhhhhh! We were watching World Cup games during lunch. Don't tell the bosses.

We also got to eat so we go to the best restaurants around, Chef Mickey's and Sea Dog Brewing Company!
We at ACPEN partner with a number of state CPA societies from across the country, to help provide the best possible CPE for accountants. Thus, several of our intrepid ACPEN employees attended the 2015 Northeast States Conference.
We got to meet with several presenters we know and love (K2 Enterprises and Executive Education for instance) as well as a number of the state society representatives (whom, we also know and love).
So all and all, it was a productive, and great excuse to go to Florida in February trip! Gallery below.
Also, for those of you who are twitter-y inclined, you can see more with #necpe15 over on twitter.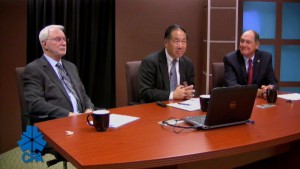 ACPEN helped the Texas Society of CPAs produce a Professional Issues Update. The nice folks at the TSCPA offer these two hour updates free to their member through ACPEN!
Here you see a screen shot of the live production.
If you're a TSCPA member, who couldn't make the live date, don't worry. You can still catch the replay on January 21. Contact the TSCPA to register.