By: Jimmy Martens
This summer, it's widely expected that the U.S. Supreme Court will overrule, distinguish, or substantially limit its 1992 decision holding that only sellers with a physical presence within a state are within reach of that state's sales taxing authority. If the Court does depart from its longstanding, bright-line physical presence rule, it will spell major changes both for national online sellers and state economies, as billions of revenue dollars become accessible to state tax collectors and lawmakers scramble to implement a workable scheme for tax regulation in this context.
Quill Corp. v. North Dakota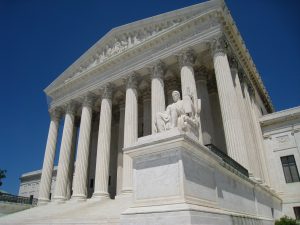 In 1992, the U.S. Supreme Court decided Quill Corp. v. North Dakota, which struck down the North Dakota Supreme Court's decision holding that the mail-order office supplier was required to collect and pay North Dakota use tax on its sales to roughly 3,000 customers within North Dakota. The Court held that a state may only impose tax obligations on a seller that is physically present within its borders. This physical presence includes employees, agents, or independent contractors working in the state, tangible personal property within the state (inventory, vehicles, or rented personal property), or a physical location there (an office, salesroom, distribution center, warehouse, or other place of business). The Court imposed the physical presence requirement to prevent state legislatures from creating unfair burdens on interstate commerce.
The landscape has changed since Quill: remote sales have exploded in volume due to the internet. Many argue that now brick-and-mortar, in-state sellers and state coffers are the ones that need protection. In the internet era, and in light of Congress' failed efforts to address the issue, state legislators have chipped away at Quill by enacting so-called "Amazon laws," named for the e-commerce giant they first sought to target. These include click-through, notice, affiliate, and economic nexus laws.
Click-Through Nexus
A "click-through nexus" law, like that of New York, requires an out-of-state seller to collect sales tax when the out-of-state seller pays a commission to an in-state company whose website allows customers to "click through" to the out-of-state-seller's website and make purchases there. At least twenty states have enacted these so-called "click-through nexus" statutes.
Notice Laws
Notice laws are another type of Amazon law rolled out by states eager to reach and tax online sales dollars. Louisiana, for example, requires out-of-state sellers that do not collect and pay Louisiana use tax to notify their Louisiana customers that their purchases are subject to Louisiana use tax and provide each one with an annual notice containing the total amount the purchaser has paid that seller for property or taxable services in the preceding year. Similarly, the remote seller must file an annual statement for each Louisiana purchaser with the Louisiana Department of Revenue that includes the total amount paid by the purchaser to that seller for property or taxable services in the preceding year.
Affiliate Nexus Laws
Affiliate nexus laws treat the in-state physical presence of a related company as the physical presence of the seller when certain conditions are met. For example, Texas' affiliate nexus applies when:
The out-of-state seller sells the same or similar product as the related company under the same or similar business name;
The out-of-state seller uses the related company's Texas facilities or employees to advertise, promote, or facilitate the out-of-state seller's sales;
The out-of-state seller uses the related company's Texas facilities, or employees are used to perform any activity on the out-of-state seller's behalf intended to establish or maintain a marketplace for the out-of-state seller in Texas, including receiving or exchanging returned merchandise; or
The related company maintains a distribution center or warehouse and delivers property sold by the out-of-state seller to customers.
Economic Nexus Laws
In 2005, Ohio became the first state to enact what is now termed an "economic nexus law." Ohio's law provides that any seller who makes over $500,000 in sales to Ohio purchasers is subject to Ohio's sales tax laws. Other states have followed suit, drafting similar statutes with sales thresholds ranging from $500,000, to $10,000 to no threshold at all.
These and other Amazon laws are intended to bolster state use tax law enforcement, and some even provide for expedited and streamlined legal procedures for tax collection.
South Dakota v. Wayfair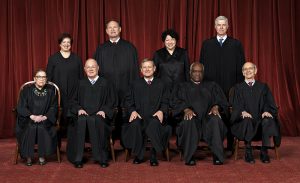 Perhaps the most deliberate challenge to Quill is that of the South Dakota state legislature, which is now pending before the U.S. Supreme Court in South Dakota v. Wayfair. South Dakota's law requires sellers with no physical presence in South Dakota to collect and remit sales tax to the state when the seller's gross revenue from sales to South Dakota residents total $100,000 or more through over 200 transactions. Before the law came into force in May 2017, South Dakota sent notice of lawsuit to the four largest out-of-state sellers that it believed would exceed the threshold and were not collecting sales taxes. Of those, Wayfair Inc., Overstock.com, Inc., and Newegg Inc. refused to comply. South Dakota filed suit, and the case made its way to the South Dakota Supreme Court, which ruled for the sellers against the state, citing Quill. The state filed a petition for a writ of certiorari, which the U.S. Supreme Court granted. The U.S. Supreme Court announced in January that it would hear the case.
Many express doubt that the Supreme Court will overturn Quill in light of the political nature of the questions posed in South Dakota v. Wayfair, emphasizing that it is Congress's job to police states' infringement on interstate commerce and to develop a taxing scheme that brings the currently insurmountable task of nation-wide state and local sales tax compliance within reach for online sellers. However, it is also doubtful that the High Court would grant certiorari only to simply punt to Congress without further input or development of the issue.
In the absence of a final decision, online sellers face a dilemma: comply with state laws that are, on their face, unconstitutional at present, or defy those laws and risk the repercussions from state governments. Assuming the Court overturns Quill, online sellers' exposure from failing to comply with state laws could be nominal or overwhelming, depending on whether states are allowed to, and do in fact apply their laws retrospectively.
The Supreme Court's decision in South Dakota v. Wayfair is certain to cause ripple effects throughout the tax world. Doing away with the physical presence standard may raise issues regarding the calculation of Texas franchise tax obligations for combined entities with out-of-state members. Even if the Court declines to overturn Quill, state legislatures that have ignored the physical presence standard may have to enact laws to make up for the potential tax revenue lost. At the very least, the pressure on Congress to resolve this issue should reach its pinnacle.
Oral arguments are scheduled for April 17th, and a decision is expected by the end of the current term, in June.