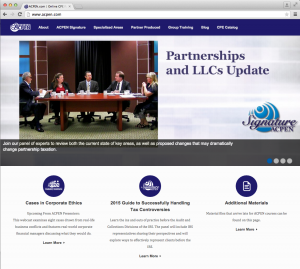 You may have noticed that the ACPEN website conspicuously disappeared a couple weeks ago. Well…
Lo! And behold!
At long last, the new ACPEN.com is up and running!
From the press release:
Now, we are proud to unveil our new, and greatly improved, ACPEN website. The new acpen.com is attractive, easy to navigate, and more informative than ever before. Now, it will be even easier to browse, search, and purchase our impressive course offerings. We've incorporated additional information and videos to help you learn about ACPEN's ever increasingly broad course offerings, and allow users make the best CPE selections for themselves and their firms. And, with an emphasis on mobile compatibility, the new site exhibits ACPEN's flexibility; foreshadowing many more coming improvements.
Check it out! Now you can find all your ACPEN info, and general ACPEN goodness, even easier, in a sweet new site.
Have a look see, and let us know what you think!