Tag Archive: Bruce Weinstein
Submitted by ACPEN presenter Dr. Bruce Weinstein, The Ethics Guy.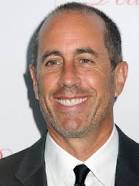 Thank you, Netflix, for releasing all at once the latest season of Jerry  Seinfeld's essential series, Comedians in Cars Getting Coffee. The show pulls off the unusual feat of appealing to people who love automobiles, espresso, comedy or any combination of these.
Most of all, however, Jerry Seinfeld demonstrates the art of great conversation. Specifically, he does the following five things in the show that anyone interested in becoming a better leader would do well to heed.
Jerry Listens
A conversation is like a tennis game. In tennis, you hit the ball to your opponent, she or he then lobs it to you, and back and forth you go. In a conversation, you ask a question or make an observation, and then you stop and listen.
That's how a conversation is supposed to go but too often does not. For many people (otherwise known as yakkers or crashing bores), the conversational metaphor is not a tennis game but a batting cage. They hurl ball after ball at you. You try to bat one back, but whether you do or not doesn't matter, because the yakker has already prepared another ball to shoot at you.
Jerry Seinfeld uses the tennis metaphor. You rarely get the sense that when a guest on the show is speaking, Jerry is waiting for the next thing to say.
Converse like Jerry. Listen.
Jerry Looks
"She studied the lines in my face," sings Bob Dylan in his breakup song, "Tangled Up in Blue." Like that woman, Jerry Seinfeld studies the faces of every guest he has on the show. Unlike that woman, he's not in the throes of a troubled relationship. No, Jerry studies faces because it's life's details that fascinate him and form the basis of all of his comedy.
I've never had the pleasure of speaking with Jerry one on one, and I'll admit that I'd be a bit self-conscious. But none of the guests on the show appear to be bothered by Jerry's attention to their faces. That's because each guest is both a friend of Jerry's and an observer of life too. It's not a stretch to say that Jerry Seinfeld and all of his comedian friends are successful because of their attention to detail.
Converse like Jerry. Look.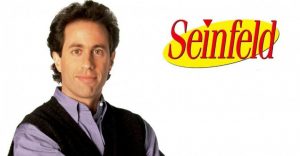 Jerry Laughs
One of the intoxicating pleasures of Comedians in Cars Getting Coffee is the good-natured humor and ready laughs that permeate every episode. The lightness and airiness of the conversations make whatever professional or personal problem you're dealing a little easier to bear. Yes, it's that good. (That's also a characteristic Larry David's interactions with his real-life pals on Curb Your Enthusiasm, but a proper analysis of that marvelous show would require a separate column.)
I once remarked to a friend that Jerry's laughter on Comedians sometimes feels forced. He will howl at something his guest says that hardly rates a 4, let alone a 9, on the Richter scale of comedy. "But that's how friendships are," my buddy replied. "Friends laugh at things others wouldn't find amusing at all." He was right.
We've all had conversations with people who regard their every utterance with deep reverence. I fear that I'm like that on occasion, and the show reminds me of the dangers of being this way.
Converse like Jerry. Laugh (some of the time).
Jerry Respects
There is no more touching example of how Jerry Seinfeld treats his guests with respect than the final episode of this season. Jerry Lewis is his guest, and the love and admiration Seinfeld has for the true king of comedy is evident in every moment of its twenty minutes.
Lewis appears fragile, and the episode must have been filmed not too long before he died. That makes it even more touching than it would have been already, and your eyes will be welling with tears by the end.
Seinfeld evinces the same respect with other legends of comedy who have been on the show: Don Rickles, Carl Reiner and Mel Brooks and among them. One can only imagine how amazing it would have been to see Jerry with Phyllis Diller, Joan Rivers, George Carlin or Richard Pryor.
Converse like Jerry. Show respect.
Jerry Exudes Confidence
As far as conversation partners go, a milquetoast is almost as bad as a cocky, arrogant fill-in-the-blank. Jerry Seinfeld is no milquetoast. He makes no bones about his unmatched success in both comedy and television. On a couple of occasions that level of confidence does become boastful, but when I observe that, I ask myself, "Who wouldn't be guilty of braggadocio from time to time if they had Jerry's level of achievement?"
Even Bruce Springsteen, whose leadership style I wrote about in a previous column, admits to hubris. As he told Scott Pelley on 60 Minutes:
I got as big an ego and enjoy the attention. My son has a word, he calls it 'Attention Whore.' But you have to be one of those or else why would you be up in front of thousands of people…."
Overall, Seinfeld's degree of self-regard is absolutely right for the spirited conversations he has with his friends and colleagues.
Converse like Jerry. Believe in yourself.
The Bottom Line
On Comedians in Cars Getting Coffee, Jerry Seinfeld makes you feel as though you're right in that car with him and his esteemed guest. It's not just because the show strategically uses GoPro cameras inside the vehicle. Seinfeld is a gifted conversationalist who shows what talk can be like when it's done right: enlightening, engaging and just plain fun.
If you fancy yourself a leader, or simply want to be a better friend or colleague to someone, watch the show and follow suit.
Check Bruce's availability to speak to your group on high-character leadership here.
And check out some of Bruce's ACPEN courses here.
Submitted by ACPEN presenter Dr. Bruce Weinstein, The Ethics Guy.
You don't have to be lucky enough to have a ticket to see the sold-out show, "Springsteen on Broadway," to be the kind of leader Bruce is. But I was there last night, and I saw him do five things consistently that have a lot to do with the show's, and Bruce's, unmatched success.
If you follow Bruce's lead, you will be a rock star in your own right.
Look At People When You Talk With Them
One of the most common observations about a Springsteen concert is: "I felt like he was talking right to me." How can someone playing to thousands of people make each person feel so special?
It starts with how Bruce treats the audience: he looks directly at people. Unless you're in the bleachers at Dodger Stadium, if you're anywhere within Bruce's eyesight, you feel he's looking right at you, because he probably is, at least some of the time.
Looking directly into someone's eyes the entire time you're speaking with them is creepy. But if you're constantly looking at everything but the person in front of you, you come across as distant, aloof and not interested in your interlocutor.
Be like Bruce. Connect with each person you speak with.
Speak, Then Listen
How many times have you felt as though you were on the receiving end of someone's monologue during a conversation on the phone or in person? If only that person was as impressed with you as they are with themselves.
In Springsteen on Broadway, Bruce stops from time to time to gauge his effect on the audience. He speaks, stops, gets a sense of how what he just said has landed and then continues based on the cues he's gotten from the audience.
There's a constant feedback loop during the show, and that's how every good conversation proceeds: back and forth, ebb and flow, speaking and listening. How long do you think Monologue Marlon or Self-Absorbed Sally would have lasted fronting a rock band? Not as long as Bruce has.
Be like Bruce. Shut yer yap once in a while.
Acknowledge Who Helped You Get There
About three-quarters of the way into the solo show, Bruce singles out everyone in the E Street Band and gives special attention to Patti Scialfa, who is both a member of the band and Bruce's wife.
This is humility in action. Bruce may write the music and lyrics to his songs and command the stage from beginning to end, but without the contributions of Steve Van Zandt, Garry Tallent, Roy Bittan, Max Weinberg, Scialfa, Nils Lofgren, and the late Danny Federici and Clarence Clemons, as well as the distinguished musicians who preceded them, Bruce admits that he wouldn't have gotten to where he is today.
Which are your team members more likely to think to themselves or say to you: "Stop thanking me so much" or "I really appreciate how grateful you always are about what I do"?
Be like Bruce. Give credit where credit is due.
Do What You Do Best
Could there be any expression more trite than this? No. Could there be any expression that is more likely to be the basis of your success than this? Absolutely not.
Imagine Bruce as an opera singer, ballet dancer, hockey player or financial analyst. It's impossible to envision him in any of these roles without laughing out loud. But no one laughed last night when he sauntered onto the stage of the Walter Kerr theater to play "Growing Up" on an acoustic guitar and tell stories about his family.
Bruce Springsteen wasn't born to run. He was born to touch the hearts and souls of people through the gifts of songwriting and performing that he was given and then developed.
Be like Bruce. Find out what you were put on earth to do, and if it's not what you're doing now, figure out how to get to the promised land. I know this is easier said than done, but just think of what the world would have missed if Bruce had spent his whole life as a third-tier dancer in a ballet company near Freehold, New Jersey.
Know When To Exit
Springsteen on Broadway is a two-hour show without an intermission. Although Bruce's rock concerts have stretched beyond four hours, which is great for a stadium event, his New York show is just the right length. It's long enough to be a deep dive into his life, but you don't find yourself saying, "When the heck is this dadgummed thing going to end?" You leave wanting more.
Isn't that how you'd like others to regard their time with you?
Whether you're giving a talk, having an in-person/phone/Skype conversation or attending a social gathering, you should stick around just long enough to be a welcome presence.
We all know people who don't know when to end a phone call. "Oh, and one more thing," they add, while you catch up on your online Scrabble game and pretend to listen to their logorrhea.
Be like Bruce. Know when it's time to go.
There. I said all I needed to say, so it's time for me to go, too. Thank you for reading this.
Check Bruce's availability to speak to your group on high-character leadership 
here
.
And check out some of Bruce's ACPEN courses here.