ACPEN Signature: 2018 Accounting and Auditing Update took place this week, and it was another successful Signature course. Take a look at some of the behind the scenes pictures of the good times we had. And–if you missed it, be sure to check out the on-screen action at the next live webcast replay.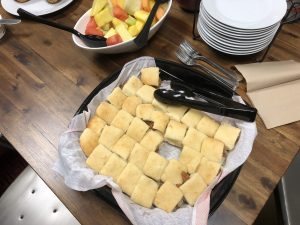 Chick-fil-a Chicken Minis: Breakfast of Champions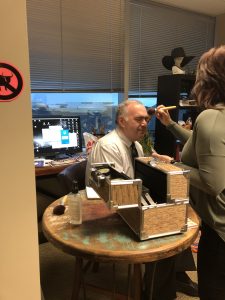 Tina making our speakers look their best!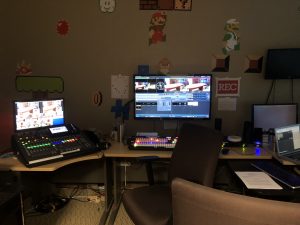 Before the show starts there's a lot of work to do, but apparently it isn't in the control room. Where'd everybody go?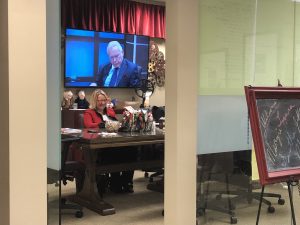 Margie Reinhart prepping for her session.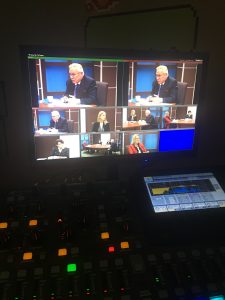 If the audio for this course sounds better than normal its because Charlie La Costa is an audio ninja.
Again, if you missed the live course, you can catch a live webcast replay! There are lots of replay dates before year end, so if you're trying to get all of your CPE by year end, you're in luck. And don't forget that we offer discounted group pricing for all of our ACPEN courses (including the 2018 ACPEN Signature: Accounting & Auditing Update)! If your firm would like information on Group Registration, just email Jessica.Vieira@acpen.com for pricing and info!
One of our favorite presenters was in studio recently to record some interesting and relevant new content for ACPEN viewers. Jill Schiefelbein is always great to work with and brings a fun and carefree attitude to creating courses.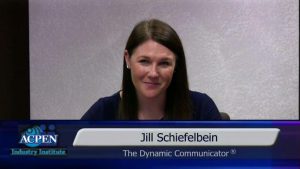 But, Jill is also a social media ninja! Check out some of her fun posts on her Instagram @dynamicjill.
Be sure to check out Jill's social media courses, Social Media and Your Business and Social Media 101: Know the Essentials for Your Business, to learn to master social media like she does.
Also check out all of her new courses.
Effective Virtual Teams and Virtual Meetings
Self-Promotion for Career Advancement: Communicating Your Strengths
Dynamic Communication: Strategies for Achieving Buy-In
Setting up Programs for Innovation: A Six Step Process
Navigating Difficult Conversations
A little bit more about Jill:
Jill Schiefelbein, The Dynamic Communicator(R), thrives at the intersection of communication, education, and technology. From analyzing classified documents obtained from military raids of terrorist camps to assess jihad messaging strategies, to teaching business communication for 11 years at the largest university in the country, to starting and managing an online education office serving 60,000+ students, to her own award-winning entrepreneurial ventures, Jill successfully creates and executes communication strategies help people and companies solve problems, retain and develop consumers, and enhance the bottom line.
Jill is co-author of the textbook Business and Professional Communication in the Global Workplace, has a widely viewed presence on YouTube, and is an official video partner and contributing writer for Entrepreneur(R). Her next book, Dynamic Communication: Strategies to Grow, Manage, and Lead Your Business, will hit bookstores in May 2017. Learn more at http://thedynamiccommunicator.com and follow Jill on Twitter @dyanmicjill.
Our September Signature Course, Business Fraud Update: Use of Technology in Fraud Investigations, was an action-packed webcast filled with stories of lies, deceptions, and FRAUD! It also featured our largest panel for a Signature Course this year, with NINE accounting and technology experts. This gives you, the viewer, many different perspectives on a fraud investigation, but it also presented many production challenges for our production crew. So, we invite you to take a look at the "Behind The Scenes" fun. And–if you missed it, be sure to check out the on-screen action at the next live webcast replay.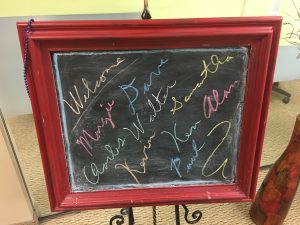 Our welcome sign, jammed full of our presenters names. (We're gonna need a bigger boat. Or board.)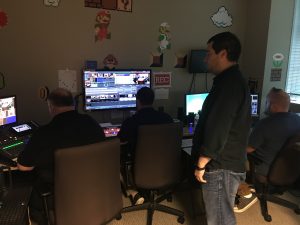 The control room, where the magic happens.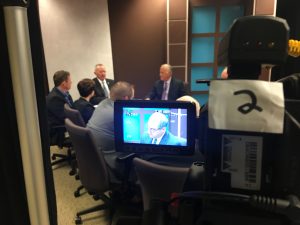 Shooting over panelist shoulders gives you a nice view of the back of panelists heads.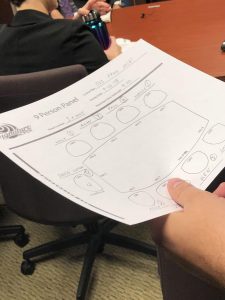 Seating and mic chart keeps everyone straight on who goes where.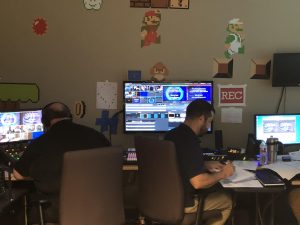 Our director, Larry, taking notes to keep things organized.
It was a hectic day for sure, but it was totally worth it! This is one of the most dynamic and engaging CPE opportunities out there. You won't be disappointed!
Be sure to check out this course and other upcoming courses at the ACPEN Catalog